Is baking your passion?
Perhaps you missed your calling as a culinary artist, or you're working toward becoming the next Food Network star. Maybe you simply want to become a better cook for your family and friends. A gourmet kitchen makes cooking a lot more fun and a lot less challenging, regardless of your skill level in the kitchen.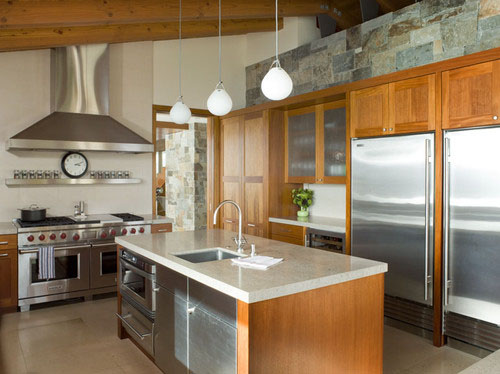 This kitchen holds many of the features of a gourmet kitchen: a separate refrigerator and freezer; dual commercial-quality ovens; a six-burner stovetop; an industrial strength ventilation system; a separate wine cooler; and a gourmet kitchen island with a microwave oven and warming drawer.
Gourmet kitchens resemble the setup you'll find on a Food Network or Cooking Channel show: state-of-the-art stainless steel appliances, gadgets galore, and that wonderful bottomless pantry that's always stocked with specialty ingredients like fresh sea urchin and cacao nibs. It must be big enough to hold everything a gourmet chef needs, while still providing a cooking station where all the necessary ingredients and tools are always within arm's reach.
This gourmet kitchen setup looks almost exactly like a commercial kitchen. Gourmet kitchens put frequently used ingredients, spices, and utensils within reach and often integrate a reach-in cooler to keep commonly used chilled items at hand.
Last but not least, your gourmet kitchen must be designed around you. A baker's needs are different from those of a person specializing in raw foods. A vegetarian will choose different appliances and accessories than a meat eater. A fisherman needs a place to gut and filet, while an artisan cheese maker requires the tools to contend with the curds and whey.
This baking station is offset from the other countertops to create three separate work areas. Marble countertops are perfect for rolling out dough because they're practically stick-free. The countertop is slightly lower and the storage drawers don't quite reach the floor to help keep the baker on top their dough.
Whether you specialize in crafting specialty foods from scratch, you want to improve your ease of cooking, or you're a downright culinary master looking for the setup to match your skills, a gourmet kitchen can do it all.
Powerful ventilation, six gas burners, two industrial-style ovens, and a countertop steamer in this Case Design kitchen all come together to make this kitchen gourmet. The narrow space is actually easier to work in and save space overall in the home.
What is a gourmet kitchen? It's a state-of-the-art culinary setup that's equipped with a large range of special features, appliances, and accessories that make cooking gourmet, exotic, and specialty foods from scratch in your own kitchen a reality. Here are a few of the features you'll find in a gourmet kitchen design.
A self-sustaining island
A gourmet kitchen island is like having a second kitchen in the middle of your kitchen. It has plenty of counter space; its own sink, cabinets and drawers for storage; and other features like additional ovens, microwaves, and a second dishwasher. It's often designed around the particular needs of the person or family using it.
This gourmet kitchen island is designed for a baker. The island is split to create two work stations, and the baking station is several inches lower to make it easier to work with dough. Plugs and pull out shelves inside the cabinets keep large appliances like the Kitchen Aid ready at all times.
The island pictured here creates a separate dishwashing station and tons of extra storage. The recessed bottle chiller provides a subtle and useful feature.
Industrial-strength ventilation
Two grills and six burners put off a lot of heat, smoke, and vapor, so a massive ventilation system is in order in many gourmet kitchens. We're seeing a lot of cutting-edge stainless steel range hoods in home kitchens as a result.
Six burners, two ovens, a gas grill, and a separate broiler require some serious ventilation, but this powerful range hood is up to the task.
The contemporary hood system over this island grill and burner becomes a centerpiece of this Case Design/Remodeling kitchen, functioning as ventilator and light.
Stovetop pot-filling faucets
This handy feature can be added to any kitchen, but it has become a staple in state-of-the-art kitchens. Hands-free faucets and hot water on demand are becoming common commodities in gourmet kitchen design as well.
The commercial-style range, flattop grill, massive hood system, and stovetop faucet all help put this kitchen in the realm of gourmet.
Great gadgets and accessories
Gourmet kitchens come with many of the tools and appliances that make techniques like deep frying and smoking next to impossible in your average kitchen. Restaurant-style warming tables, countertop steamers, salamander-style broilers, frying stations, and indoor smokers can all be found in gourmet kitchens.
This countertop steamer from Sub-Zero and Wolf doubles as a warming table to help keep food hot until everything's ready to serve.
Kitchen computer or flatscreen
Whether you're following along with the Cooking Channel or using an online recipe, more home chefs are integrating a computer or flatscreen into the array of kitchen appliances.
With the right design, a flatscreen blends in with the other appliances instead of dominating the kitchen.
Innovative rollout storage options
Specialty cooking requires a lot of different gadgets and tools, in addition to the usual serving platters, casserole dishes, and baking sheets. Storage in a high-tech kitchen must be plentiful and easily accessible if you don't want your gourmet cooking to slow you down.
Roll out pantries are amazing space savers and keep a large volume of ingredients within reach at all times. This china cabinet has the same idea by fitting a large quantity of the household's most frequently used dishes inside a single cabinet.
No more stacking and un-stacking to find the right baking sheet. Slotted drawers and rollout shelves provide more storage in less space and keep all items equally accessible.
You'll never notice a trash can in a gourmet kitchen, and it certainly won't be found under the kitchen sink. Rollout trash, recycling, and even composting make a lot of sense these days in any kitchen design.
What gourmet features do you love in your remodeled kitchen? We'd love to hear all about them. Share your comments and tell us all about it!